Kaylee McGhee White
Alittle more than a week ago, a deranged criminal intentionally drove his SUV through a crowd of people at the Waukesha Christmas Parade, killing six people and injuring dozens. Eight children are still in the hospital.
The national media don't seem to care.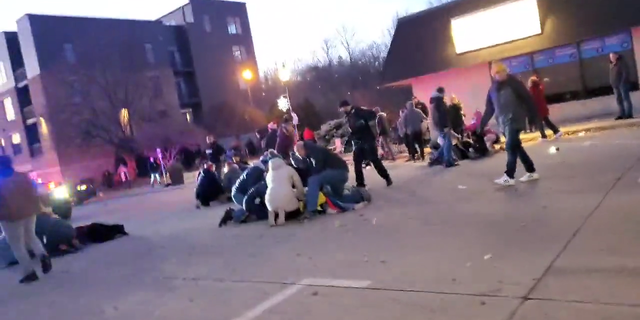 Local news outlets are tracking the health status of the victims and law enforcement's response to the attack. But for some reason, many of the national publications seem to have lost interest, especially in the attacker, Darrell Brooks.
The last time the New York Times and Washington Post published a story about the attack was last week. Left-leaning news networks, such as MSNBC and CNN, have done their best to avoid mentioning Brooks at all.
The Milwaukee Journal Sentinel was the first to report that Brooks was a career criminal with a violent history. The publication also revealed that Brooks was only out on the road that day because Milwaukee County's District Attorney made an "inappropriately low" bail recommendation after Brooks was arrested — get this — for running his girlfriend over with a car. Brooks was involved in another "domestic disturbance" before he drove into the parade route.
In at least one of its reports about the attack, CNN failed to mention Brooks by name until the very last paragraph. The original headline for the report also excluded Brooks, as if it had been a driverless car that rammed through the parade. "Waukesha will hold a moment of silence Sunday," it read, "one week after a car plowed through Christmas parade." (At least CNN eventually revised the headline to clarify that there was, in fact, a man behind the wheel.)
The Washington Post similarly posted a tweet last week claiming the Waukesha tragedy was "caused by an SUV," not by Brooks. Even after Brooks was publicly identified as the driver by law enforcement, MSNBC's Rachel Maddow refused to mention him by name, only referring to him as "the suspect" during one of her segments.
It's difficult to interpret this as anything but an intentional media black-out of Brooks.
There are several possible reasons for it. One is that Brooks was out on bail — a damning fact for Milwaukee's soft-on-crime leftist district attorney, John Chisholm. Chisholm once admitted in 2007 that his approach might get people hurt. "Is there going to be an individual I divert, or I put into a treatment program, who is going to go out and kill somebody?" he asked. "You bet. It's guaranteed to happen. It does not invalidate the overall approach."
Another problem is that Brooks seems to have been subject to the media's hysterical efforts to generate national racial resentment over the last 18 months or so. Social media postings believed to be Brooks's show that he believed in "white privilege," supported the Black Lives Matter movement, and hated the police. He also allegedly condemned the Rittenhouse verdict and said he wasn't surprised by it "one bit."
Was he out for "justice," then? The social media posts do not necessarily prove that, but it is telling that not one leftist media outlet has covered them, even though CNN and MSNBC have gladly covered similar posts in the past by other killers. They were very quick to jump on Parkland school shooter Nikolas Cruz's online writings about being a white supremacist.
If Brooks had been a white, right-leaning person who posted about hating black people, CNN and MSNBC would have nothing else on for weeks. There would be extensive reports on his upbringing and politics — everyone would know exactly who he is.
But Brooks doesn't fit the leftist media narrative. He's not an "angry white man," nor is he an identifiable Republican. So they immediately lost interest.
Read More From The PatriotAmerican
But he's not just old news — not to the dozens of families who had their lives upended and destroyed because of what he did. Those families deserve to know why they were attacked and whether certain rhetoric by the media and riot-enabling politicians made that attack happen. Hopefully, the justice system finds answers to those questions, because the media won't even try.