By Zachary Stieber
Males under 40 years old are more likely to experience heart inflammation after getting a booster shot of Pfizer's COVID-19 vaccine than COVID-19 itself, according to a recently published study.
Males in the age group had a myocarditis incidence rate ratio of 7.6 in the 28 days following receipt of a Pfizer booster, researchers with the University of Oxford and other UK institutions found.
That was higher than the ratio of 2 in the four weeks following a positive COVID-19 test result.
"For the first time, we observe an increase in myocarditis events following a third dose of BNT162b vaccine," researchers wrote in their study, which has not been peer reviewed as of yet.
BNT162b is the name of Pfizer's COVID-19 vaccine.
COVID-19 is the disease caused by the CCP (Chinese Communist Party) virus.
Myocarditis is the primary form of heart inflammation seen after people get vaccinated or get COVID-19.
"Current college booster mandates do not seem to have the best interests of the students, especially the male students, at heart. We need better data on the risks and benefits of boosters in the <40 age group," Dr. Tracy Høeg, an epidemiologist based in California, wrote on Twitter about the study results.
Judge Blocks Vaccine Mandate in San Diego Schools
Researchers also found an even stronger link between Moderna's COVID-19 vaccine and myocarditis.
After getting the second dose of Moderna's two-shot primary regimen, males under 40 had an incidence rate ratio of 16.5.
That was well above the 3.4 ratio for those who got the second shot of Pfizer's vaccine and the 2.5 ratio for those who received a second shot of the AstraZeneca/University of Oxford vaccine, both of which also have two-shot initial dosages.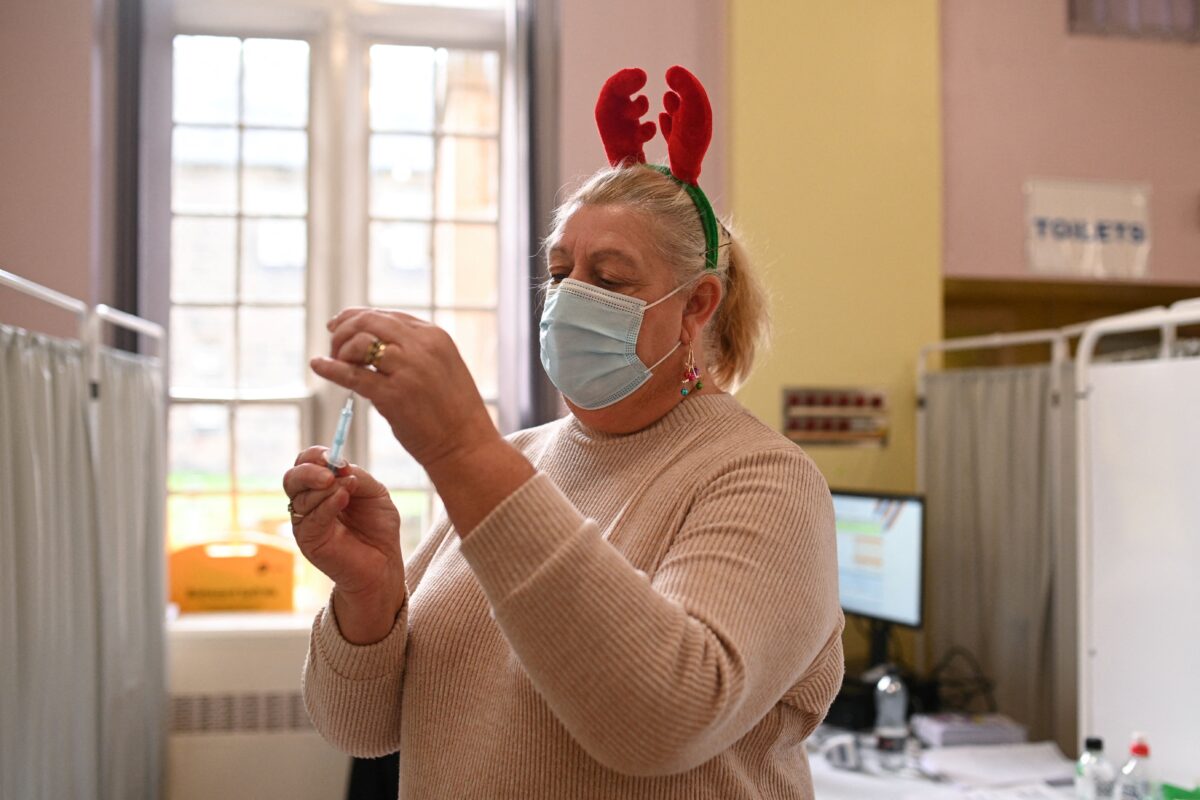 Researchers drew data from the the NHS Immunisation Management Service database, which includes information on all people who received a vaccine in England. Those in the database got a vaccine between Dec. 1, 2020, and Nov. 15, 2021.
They estimated an additional 101 myocarditis events per million in the 28 days following the second dose of Moderna's vaccine and an additional 13 events following a Pfizer booster, both of which were higher than the estimate of 7 additional such events in the four weeks following a positive COVID-19 test.
Pfizer and Moderna did not respond to requests for comment.
Researchers, who received funding from the University of Oxford and the UK government, stressed that in the overall population, the risk of myocarditis was pegged as higher following contraction of COVID-19 versus post-vaccination, except for following the second dose of Moderna's vaccine. Among the limitations was an inability to break down the specific risk to children aged 13 to 17 because the number of myocarditis events was too small.
Earlier studies had put the risk of myocarditis as higher for young males who received the Moderna or Pfizer vaccine when compared to those who got COVID-19, but no researchers had analyzed the risk from booster doses.
U.S. drug regulators authorized boosters of Pfizer's shot for 16- and 17-year-olds earlier this month, and the Centers for Disease Control recommended every teenager get a third jab.
Both agencies ducked their vaccine advisory panels after members expressed concern previously about the risk of side effects like myocarditis outweighing the benefits of boosters in young males.
U.S. officials relied heavily on data from Israel, which started boosting young people ahead of virtually every other nation. Pfizer's risk-benefit analysis, based on Israel's data, estimated 29 to 69 COVID-19 hospitalizations per million booster doses administered would be averted, but that boosters would lead to 23 to 69 cases of post-boosting myocarditis.
Read More From The PatriotAmerican
At the same time, regulators in late October pushed back a decision on clearing Moderna's vaccine for children aged 12 to 17 because of concerns about post-vaccination myocarditis.
The new study should trigger a pause of Moderna's vaccine in all men under 40, as several European nations have ordered, Dr. Vinay Prasad, an epidemiologist at the University of California, San Francisco, wrote on his blog.