New York Attorney General Letitia James and 20 other attorneys general have filed an amicus brief (pdf) in the U.S. Court of Appeals for the Fifth Circuit, urging a judge to reverse a lower court decision and allow Biden administration officials to continue to instruct social media companies on impermissible content.
"An open dialogue between government officials and social media companies is critical to keeping Americans safe," stated Ms. James.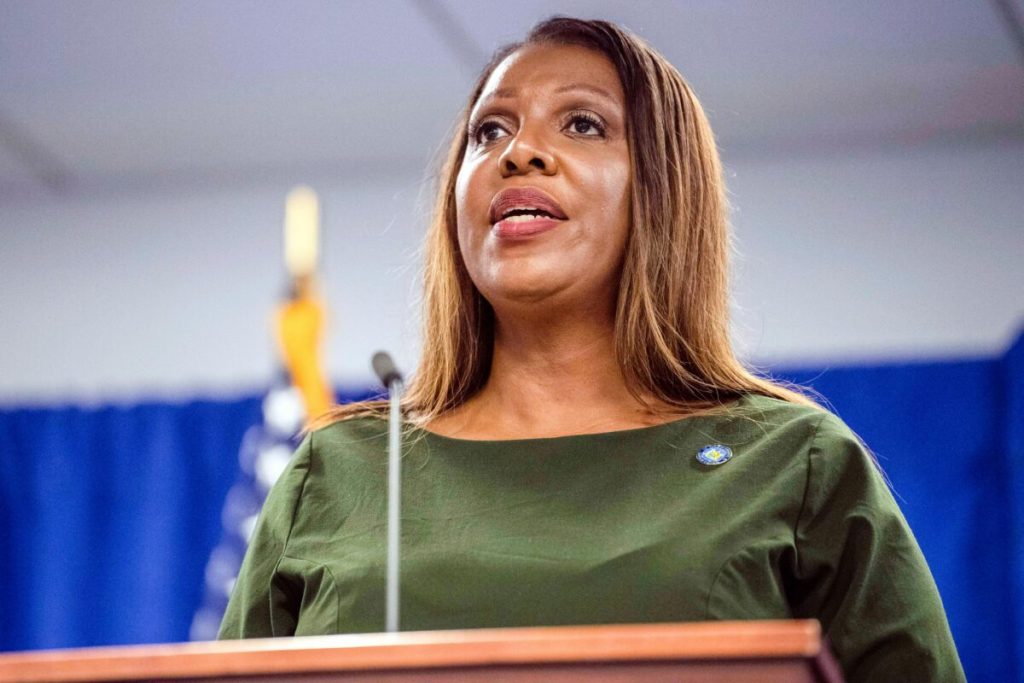 The attorneys general say that states have taken actions similar to federal agencies, and are backing the Biden administration in their appeal.
"Amici States, too, routinely engage with social-media companies on content moderation, including to exchange recommendations on best practices and to report specific content that violates the platforms' own terms and services," the brief reads.
The historic case began with the massive amounts of COVID-19-related information that flooded social media during the pandemic.
Posts ranging from calls to open public schools and discussions on the science of natural immunity to posts making fun of public officials were targeted for removal and retaliation by government officials. Within the 20,000 pages of documents are several colorful exchanges between companies like Facebook and Twitter and government officials.
Republican attorneys general in Louisiana and Missouri sued the Biden administration on behalf of several private individuals, and the judge found they had "produced evidence of a massive effort by Defendants, from the White House to federal agencies, to suppress speech based on its content."
On July 4, U.S. District Judge Terry Doughty in Louisiana granted a preliminary injunction. He had previously refused to dismiss the case, ruling that "censorship was encouraged—perhaps even mandated—by the Biden Administration and several key governmental departments."
More than 50 officials across a dozen agencies were involved.
The Biden administration quickly appealed the temporary block, writing that the "Government faces irreparable harm with each day the injunction remains in effect." Judge Doughty rejected the request, but a three-judge panel for the 5th Circuit Court of Appeals in New Orleans issued a ruling that effectively negated the temporary block.
Now the 21 Democrat attorneys are backing the Biden administration, arguing that Judge Doughty "sets a dangerous precedent" that undermines the government's ability to "keep Americans safe and secure online."
'Unique Perspective'
The attorneys argue that their states have a "unique perspective on the nature and importance of such information-sharing and dialogue" because their governments' experiences in communicating with social media companies on "child safety, consumer protection, and election integrity is mutually beneficial."
The brief cites cases like a 2022 Buffalo, New York, shooting where law enforcement was able to identify the shooter through Twitch videos and Discord posts, and how Twitter took down links to a livestream of the shooting after user reports.
It also cites a 2008 agreement where MySpace and Facebook agreed to adopt best practices to protect children from online predators. This resulted in Facebook later announcing it would stop the development of "Instagram Kids" pending input from parents, experts, and lawmakers.
But the injunction does not prevent such usage.
The temporary block issued on July 4 did not prohibit all government correspondence with social media companies. It specifically prohibited meeting or contacting by phone, email, or text message or "engaging in any communication of any kind with social-media companies urging, encouraging, pressuring, or inducing in any manner for removal, deletion, suppression, or reduction of content containing protected free speech," or flagging content for removal.
Meanwhile, it allowed agencies to continue to work with social media companies when it came to posts about criminal activities, national security threats, or criminal efforts to affect elections.
The amicus brief argues that the federal agencies' actions were "recommendatory and non-coercive," but Judge Doughty found that not to be the case.
He found that the documents compiled showed that the effort to pull down posts and deplatform users was constant. Messages revealed that federal employees wielded great power over the social media companies, often responding to apologies and deference with even more demands.
A February 2021 exchange between Twitter and the White House detailed how Twitter had been so "bombarded" with requests from federal agents that it wanted to work out a more streamlined process to receive them. Mr. Flaherty had suggested regular, bi-weekly meetings with YouTube to cooperate even after the platform had "reduced watch time by 70% on borderline content, which is impressive" (pdf).
'Election Integrity'
What began with COVID-19 quickly grew to encompass online posts about the 2020 elections.
The Missouri and Louisiana case against the Biden administration argued that conservatives were targeted by the Biden administration, and Judge Doughty's memo noted that "opposition to COVID-19 vaccines; opposition to COVID-19 masking and lockdowns; opposition to the lab-leak theory of COVID-19; opposition to the validity of the 2020 election; opposition to President [Joe] Biden's policies; statements that the Hunter Biden laptop story was true; and opposition to policies of the government officials in power. All were suppressed."
The 21 attorneys argue government takedown of posts that questioned the election results was just.
Massachusetts used Twitter's "report" function for posts containing "false or misleading information about the electoral process" and Connecticut hired a specialist to "identify, report and combat election misinformation online and in social media."
Russel Weaver, professor of law and distinguished university scholar at the University of Louisville, wrote a handbook on free speech and changing technology nearly a decade ago, which is in the process of being updated to its third edition. He recently authored two papers on the topic of disinformation and free speech that have been submitted for journal publication. Just because something is disinformation, it doesn't make it illegal, he says.
Read More From PatriotAmerican
And the government may not do indirectly what it may not do directly.
If social media companies routinely do the government's bidding, one can argue that "this constitutes 'state action,'" he told The Epoch Times. "So, rather than the private companies being treated as 'private,' they should be treated as "state actors" and therefore subject to the First Amendment."