By Darlene McCormick Sanchez
AUSTIN, Texas—The opening of the 88th Texas legislative session this week was just as tense as any Western high-noon showdown.
Grass-root Texas conservatives flocked to Austin this week wearing "Ban Democratic Chairs" T-shirts to protest against the appointment of chairs from the minority party to House committees.
They left disappointed on Jan. 11 after attempts to block the practice failed.
When the 88th Texas legislative session got underway on Jan. 10, staunch conservatives faced off with incumbent House Speaker Dade Phelan, a Republican from Beaumont. Their beef: Phelan has publicly defended appointing chairmanships to Democrats, who are in the minority.
Republicans in the state have been growing more vocal against the practice, which they say results in the unnecessary death of many bills moving through the Republican-led Texas legislature.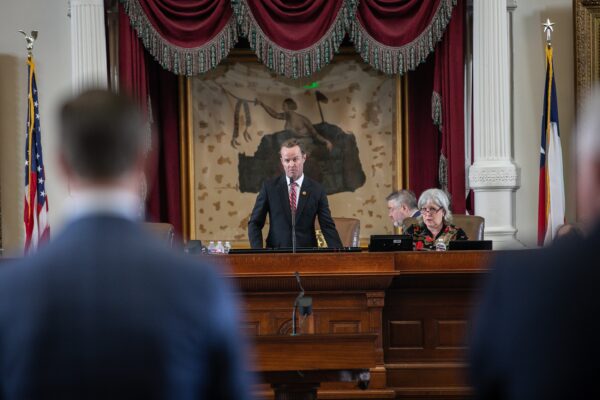 It has long been a Texas House tradition of seating minority party members to chair committees—something Phelan supports as a way of making government in Austin more functional by giving Democrats a seat at the table.
Democrats obviously appreciate the gesture—he won every Democratic vote. Two even took to the floor publicly praising him for reaching across the aisle.
Toni Rose (D-Dallas) commended Phelan for supporting her bill in 2021 that expanded Medicaid coverage for new mothers.
Tracy King (D-Batesville) applauded the Speaker for meeting with families of victims of the Robb Elementary School shooting in Uvalde, Texas, last May.
However, conservatives were having none of it.
The practice of conservatives ceding power to Democrats needs to end, especially when they chair high-profile committees, such as the Public Education Committee, a group of Republicans from Ellis County told The Epoch Times.
Bills that land in committees chaired by Democrats often die because time runs out before they can be considered, said Randy Bellomy, chairman of the Ellis County GOP.
What's more, "RINOs" [Republican in Name Only] can file bills they know won't pass through Democrat-led committees, but still will make themselves look good to constituents and please more liberal lobbyists, said Everly Gatlin, a Republican from Ellis County.
"'Oh, it was a Democratic chair'—they can blame it on that," added Melody Allen, also a member of the Ellis County GOP.
'Ban Democratic Chairs'
Banning Democrat chairs was one of the top eight legislative priorities for 2023. They were passed by Republican delegates at the Texas GOP convention last summer.
State Rep. Tony Tinderholt, a Republican from Arlington, is one of the more conservative House members. He challenged Phelan for the Speakership but lacked enough support from fellow conservatives.
On Jan. 10, the Texas Capitol's auditorium was filled with many Texas conservatives from across the state as the nominations for House Speaker commenced.
Boos broke out in the crowd after Phelan was overwhelmingly reelected with bipartisan support from 145 Republicans and Democrats. Only three state representatives voted against Phelan, and two abstained.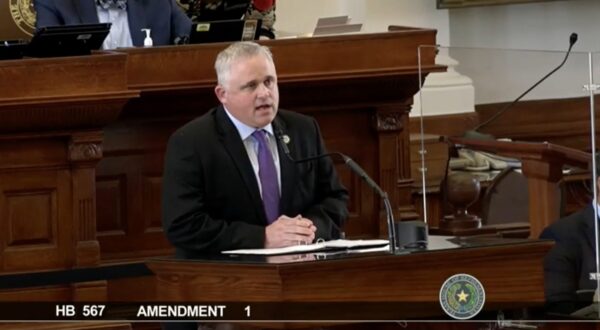 More controversy followed as Phelan announced he would take up house rules on Jan. 11, instead of Jan. 12—when at least 18 busloads of grass-roots Republicans were scheduled to attend in protest of Democrat chairs, according to GOP backers.
An estimated 1,000 Republicans showed up at the Austin Capitol on Jan. 12 to criticize Phelan and his allies.
State Rep. Bryan Slaton, a Republican from Royse City, slammed Phelan's plan to move up a vote on House rules, indicating he believed it was a tactic to curtail dissent. Slaton was among the conservatives who nominated Tinderholt for Speaker.
"In his first act of defiance to Republican voters, @DadePhelan has decided to move up the rules debate tomorrow," Slaton wrote on Twitter.
Slaton filed proposed amendments to the rules on Jan. 11 that would have blocked Democrats from being named to chairmanships.
Six House Republicans backed at least one of Slaton's amendments.
But Rep. Charlie Geren, a Republican from Fort Worth, argued that barring Democrat chairs ran counter to the existing prohibition on using House resources for political purposes. That provision was passed in a housekeeping measure with little fanfare earlier in the day.
Texas GOP Chairman Matt Rinaldi, who has sparred with Phelan over the Democrat chair issue, took the Speaker to task on Twitter.
"The Republican Speaker is taking the procedural position that restricting chairs to the majority party as every other state and congress does is using state resources for 'political purposes' and is illegal. This baseless and absurd ruling was made solely to protect Democrat power," Rinaldi wrote in his post.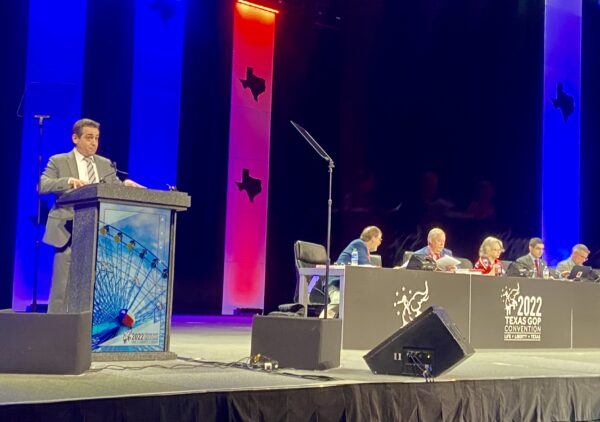 "If you are Republican and you were not speaking loudly against this then why are you even in office?" Rinaldi jabbed at Phelan's allies.
The Texas GOP kept a running tally of House Republicans who opposed awarding chair positions to the minority party but only listed 19 members. Rinaldi posted their names on social media.
The showdown was reminiscent of the recent battle among Republicans in the U.S. House of Representatives over their choice for Speaker of the House.
A more conservative wing of the party fought for concessions from Rep. Kevin McCarthy, a California Republican, before stepping aside so he could win the speakership after a 15th dramatic vote.
However, in the case of the Texas Legislature's choice for Speaker, Phelan needed to make no concessions in order to win a second term.
Phelan defended his bipartisan approach on Dec. 24, 2022, writing that the legislative process in Washington is "completely broken," with no attempt for the two major parties to work together.
He said the Texas Legislature "should never emulate it."
During the 2021 session, Phelan appointed 13 Democrats to chair committees.
Republicans point to bills that struggled to pass in 2021 as examples of why Democrats should not chair key committees.
The Save Girls Sports Act, which requires student-athletes to compete with their own biological sex, initially died in the Public Education Committee, which was chaired by State Rep. Harold Dutton, a Democrat from Houston.
Dutton later revived the bill, after a fellow Democrat killed one of his priority bills on education on the House floor. Democrats accused Dutton of resurrecting the sports bill as payback for their efforts to kill his bill.
The sports bill was then placed low on the House agenda and failed to make it through the regular session, which caused Democrats to celebrate.
Later in a 2021 special session, Republicans refined the bill and assigned it to a special committee, allowing it to bypass the Democrat-controlled Public Education Committee and become law.
Rising tensions
Texas Republican sentiment on Democrat chairs soured further after Democrats fled Texas to deny Republicans a quorum to pass an election integrity bill during a special session in 2021. They went to Washington for weeks before returning.
Phelan did not act on an opportunity to order Democrats to stay in the House chamber to maintain a quorum before they left the state. He later signed arrest warrants forcing their return to the House chamber once they returned to Texas, and stripped Rep. Joe Moody, a Democrat from El Paso, of his position as speaker pro tempore.
The lawmaker in that role would fill as Speaker of the House in the case of the absence of the presiding Speaker.
And the State Republican Executive Committee passed a resolution calling for chairmanships to be revoked from Democrats who broke quorum.
In the Texas Senate, Lt. Gov. Dan Patrick has kept Democrat chairmanships to a minimum.
Sen. John Whitmire, a Democrat from Houston, is the longest-serving member of the Texas Senate and has chaired the Criminal Justice Committee since 1993. Patrick has said he'll replace Whitmire with a Republican when the lawmaker leaves office.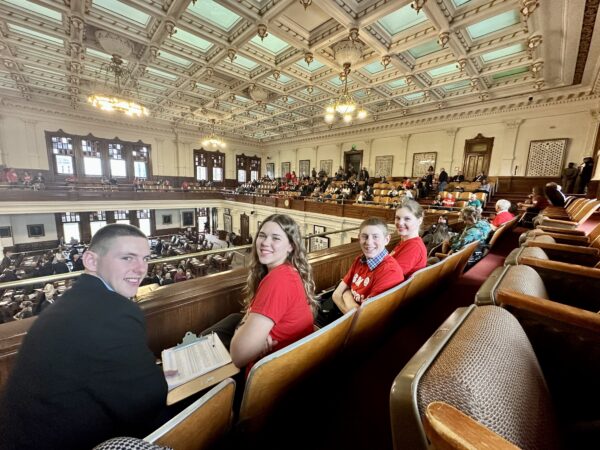 Hannah Southerland, treasurer of the Ellis County Young Republicans club, believes keeping Democrats out of leadership in the state House is vital to Texas' future as a conservative state.
The 23-year-old told The Epoch Times that she was disheartened to see rule amendments that would have blocked that practice shot down without a vote.
"I also saw a few brave men trying hard to properly represent the voices of the people," she said.
She applauded Republicans, including her community's Rep. Brian Harrison, who attempted to bring the issue to a vote.
And she urged conservative voters to pay attention to activity in the Texas Legislature.
"It's time to get involved and fix some very major issues that were made incredibly apparent today," she said. "It is time for us to fight and make our voices heard."