By Mimi Nguyen Ly
Indiana Gov. Eric Holcomb on March 21 signed into law a bill to remove the requirement to carry handgun permits, also referred to as a "constitutional carry" bill by some, in reference to the Second Amendment.
The measure, HEA 1296, passed by a 30–20 vote in Indiana's Senate on March 8 after it passed the state House by a 68–30 vote on Jan. 11, both largely along party lines.
The law becomes effective on July 1, 2022, after which people aged 18 and over won't need to apply for a license to carry a handgun in the state, except for reasons such as having a felony conviction, or having been diagnosed with a dangerous mental illness.
Indiana currently requires people to obtain a license to carry a loaded handgun outside their own homes, businesses, or cars, although people can generally carry rifles and shotguns without a permit.
Holcomb's signing of the bill comes just before the deadline on March 22, effectively making Indiana the 24th state in the nation that has a "constitutional carry" law. Other terms used to refer to the law include unrestricted carry or permitless carry.
Those in support say that requiring a permit undermines people's Second Amendment rights by making law-abiding citizens go through police background checks that can take weeks. They also point out that criminals aren't the ones applying for these permits, so only law-abiding people are obeying the requirement.
Opponents of the measure compare the permit requirement to how people have to obtain state-issued identification and register to vote in elections.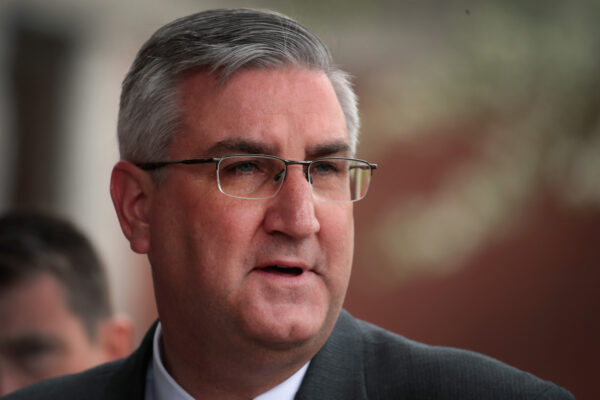 In a statement to media outlets, Holcomb said he fully supports the Second Amendment. He said the measure he signed into law "entrusts Hoosiers who can lawfully carry a handgun to responsibly do so within our State."
A number of things remain unchanged with the new law, Holcomb noted.
"It's important to note that if a person is prohibited, under federal or state laws, from possessing a firearm before this law goes into effect, that person will still be prohibited. And if a prohibited person has a firearm, he or she can be prosecuted," he said.
"Firearm permits will remain available, without fee, to anyone who wants or needs one, such as Hoosiers desiring to carry a firearm to, through or in another state that has reciprocity with Indiana," Holcomb added.
Ohio Gov. Mike DeWine signed a similar measure into state law last week.
Indiana State Police Superintendent Doug Carter issued a statement saying the state will continue to encourage people to apply for and maintain a gun permit.
"As Superintendent of the Indiana State Police, I have pledged my continued commitment to Governor Holcomb to work toward solutions enacting HEA 1296," he also said.
"I, like Governor Holcomb, feel enormous responsibility for front-line law enforcement officers. I will work with law enforcement leaders across our state to make necessary changes to firearms enforcement as well as identifying the best way to identify individuals who are not allowed to carry a firearm as defined by Indiana statute," Carter added.
Carter said previously that if lawmakers "support this bill, you will not be supporting us." He and Indiana's Fraternal Order of Police, as well as the police chiefs association and county prosecutors association had earlier in 2022 rejected the proposal, saying that removing the permit requirement would mean officers have no screening tool to quickly identify people who shouldn't be carrying guns.
Read More From The PatriotAmerican
The Indiana chapters of Moms Demand Action and Students Demand Action said previously in a statement that weakening permitting systems has only "increased gun violence in other states."