By Jack Phillips
Cargo air shipping companies warned the White House that its proposed vaccine mandate will wreak havoc on the supply chain by putting even more strain on staffing across the industry, according to a letter sent by a cargo association to the Biden administration.
"We have significant concerns with the employer mandates announced on Sept. 9, 2021, and the ability of industry members to implement the required employee vaccinations by Dec. 8, 2021," Stephen Alterman, the head of the Cargo Airline Association, wrote to the Office of Management and Budget, which is currently reviewing an emergency temporary standard that was submitted last week by the Occupational Safety and Health Administration that would mandate vaccines or regular testing for employees who work at firms with 100 or more workers.
With supply chains already suffering due to massive backlogs at key California ports and a shortage of truckers and other workers, the Cargo Airline Association—which represents UPS, DHL, and FedEx—said the vaccine mandate will create chaos.
President Joe Biden said that federal workers and federal contractors will have to get the COVID-19 vaccine. Contractors have until Dec. 8 to mandate their employees to get the shot. Federal contractors, which include UPS and FedEx cannot have their employees opt out of the vaccine mandate.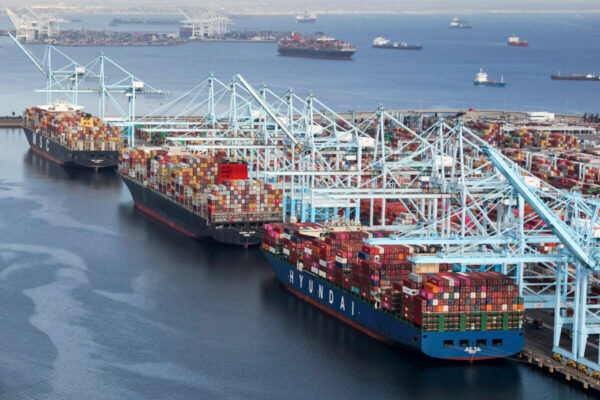 "[T]he looming December 8 mandate for having fully vaccinat[ed] workforces creates a significant supply chain problem," Alterman said in the letter. "This problem is further exacerbated by the fact that we are already experiencing a worker shortage, both in the air and on the ground, and any loss of employees who refuse to be vaccinated will adversely impact needed operations."
What's more, Alterman warned that many air cargo companies ship vital medical supplies, including COVID-19 vaccines.
Last Wednesday, Biden met with the heads of UPS, FedEx, and other firms, as well as the heads of the Ports of Los Angeles and Long Beach, to address significant bottlenecks in shipping and supply lines. The Marine Exchange, which tracks container ships at the two major ports, said there are 169 ships in port as of Oct. 21. On Oct. 15, there were 147 ships in port, the organization reported.
Spokespeople for UPS and FedEx told Politico that both companies are still reviewing Biden's executive order, but they've urged employees to get vaccinated.
Although Democrats and health officials have praised vaccine mandates as a tactic that will push the U.S. vaccination rate higher, Republicans, businesses, and unions have warned that the rule will trigger widespread economic damage and imperil the economic recovery after months of COVID-19-related lockdowns.
But Jeff Zients, who heads the White House's COVID-19 task force, said this week that the mandates are "to get people vaccinated" and "not to punish them," referring to federal workers.
"The requirements for federal workers and contractors will not cause disruptions to government services that people depend on," he said, without elaborating.
Read More From The PatriotAmerican
Alterman appeared to disagree with Zeints' argument, saying that hundreds of thousands of short-term workers haven't been hired to deal with holiday workloads.
"We therefore request that the Administration take steps to recognize this problem and to delay implementation of the vaccine mandate into 2022," he said.