by Becket Adams
An organization representing some 90,000 school board officials has asked the White House to intervene against parents who oppose onerous coronavirus masking mandates and the teaching of racialist ideology.
In fact, the National School Boards Association argued this week that parents are engaged in "domestic terrorism" and asked the White House to use the Justice Department, the FBI, and the Department of Homeland Security against protesters. It has even asked the White House to consider deploying the USA PATRIOT Act against parents and community leaders who oppose mask mandates and the teaching of critical race theory.
The "immediate threat" facing U.S. public school officials requires a coordinated response from top federal law enforcement agencies, National School Boards Association President Viola Garcia and interim executive director and CEO Chip Slaven said this week in a letter to President Joe Biden, citing a number of incidents in which school board officials were threatened or insulted by angry parents and other concerned citizens.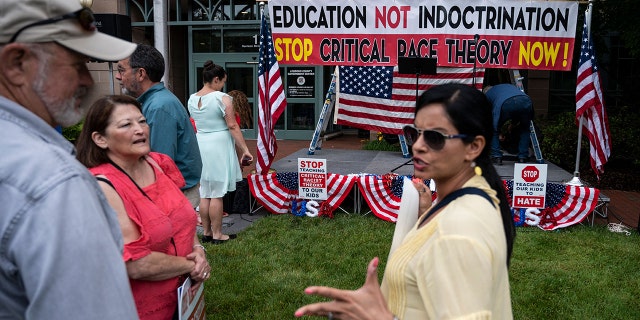 "As these threats and acts of violence have become more prevalent," they said, "during public school board meetings, via documented threats transmitted through the U.S. Postal Service, through social media and other online platforms, and around personal properties — NSBA respectfully asks that a joint collaboration among federal law enforcement agencies, state and local law enforcement, and with public school officials be undertaken to focus on these threats."
The letter adds, "NSBA specifically solicits the expertise and resources of the U.S. Department of Justice, Federal Bureau of Investigation (FBI), U.S. Department of Homeland Security, U.S. Secret Service, and its National Threat Assessment Center regarding the level of risk to public schoolchildren, educators, board members, and facilities/campuses."
The board has also asked the White House to deploy the expertise and authority of the U.S. Postal Inspection Service to intervene against "threatening letters" and "cyberbullying attacks."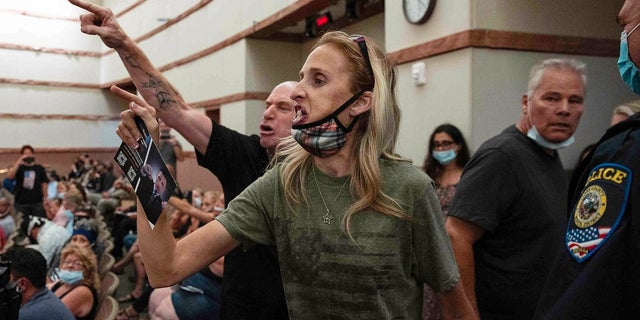 That's not all. The school board group wants to take things a step further. It wants the White House to designate anti-mask and anti-critical race theory protests as acts of "domestic terrorism" and "hate crimes." It wants the White House to bring in the USA PATRIOT Act against protesters.
"As these acts of malice, violence, and threats against public school officials have increased," the group's letter to the president said, "the classification of these heinous actions could be the equivalent to a form of domestic terrorism and hate crimes. As such, NSBA requests a joint expedited review by the U.S. Departments of Justice, Education, and Homeland Security, along with the appropriate training, coordination, investigations, and enforcement mechanisms from the FBI, including any technical assistance necessary from, and state and local coordination with, its National Security Branch and Counterterrorism Division, as well as any other federal agency with relevant jurisdictional authority and oversight."
The letter adds, "Additionally, NSBA requests that such review examine appropriate enforceable actions against these crimes and acts of violence under the Gun-Free School Zones Act, the PATRIOT Act in regards to domestic terrorism, the Matthew Shepard and James Byrd Jr. Hate Crimes Prevention Act, the Violent Interference with Federally Protected Rights statute, the Conspiracy Against Rights statute, an Executive Order to enforce all applicable federal laws for the protection of students and public school district personnel, and any related measure."
What specific threats or "violence" pushed the National School Boards Association to call on the White House to mobilize federal law enforcement resources across multiple agencies? As it turns out, the group ticks through a number of incidents it believes justify its calls for federal intervention:An individual was arrested in Illinois for aggravated battery and disorderly conduct during a school board meeting. During two separate school board meetings in Michigan, an individual yelled a Nazi salute in protest to masking requirements, and another individual prompted the board to calla recess because of opposition to critical race theory.
In New Jersey, Ohio, and other states, anti-mask proponents are inciting chaos during board meetings. In Virginia, an individual was arrested, another man was ticketed for trespassing, and a third person was hurt during a school board meeting discussion distinguishing current curricula from critical race theory and regarding equity issues. In other states including Washington, Texas, Wisconsin, Wyoming, and Tennessee, school boards have been confronted by angry mobs and forced to end meetings abruptly. A resident in Alabama, who proclaimed himself as "vaccine police," has called school administrators while filming himself on Facebook Live.
Other groups are posting watch lists against school boards and spreading misinformation that boards are adopting critical race theory curriculum and working to maintain online learning by haphazardly attributing it to COVID-19. In Ohio, an individual mailed a letter to a school board member labeling the return address on the envelope from a local neighborhood association and then enclosing threatening hate mail from another entity. This correspondence states that, "We are coming after you and all the members on the … BoE [Board of Education]." This hate mail continues by stating, "You are forcing them to wear mask—for no reason in this world other than control. And for that you will pay dearly." Among other incendiaries, this same threat also calls the school board member a "filthy traitor," implies loss of pension funds, and labels the school board as Marxist. Earlier this month, a student in Tennessee was mocked during a board meeting for advocating masks in schools after testifying that his grandmother, who was an educator, died because of COVID-19.
As for the White House, it signaled this week that it's open to the idea of siccing the full power of the federal government on anti-mask and anti-critical race theory parents.
"We take the security of public servants and elected officials across the country very seriously," White House press secretary Jen Psaki told reporters this week . "And obviously, these threats to school board members is horrible. They're doing their jobs."
She added, "We're continuing to explore what more can be done from across the administration."
Read More From The PatriotAmerican
In its letter this week to the president, the National School Boards Association said it believes "public discussions" and "transparency" by school board officials are important for the "safe and effective operations of schools."
But don't you dare say anything untoward or critical! Otherwise, the National School Boards Association will ask the president of the United States to invoke the PATRIOT Act against you.