By Alex Wu
As civil unrest continues in South Africa, Chinese businesses have been targeted. One China observer believes that the anti-China sentiment could be fueled by the Chinese regime's expanding global influence and human rights abuses.
Violence broke out in the country after former President Jacob Zuma was given a 15-month jail term last week for contempt of court for failing to appear at a hearing in February over allegations of corruption during his presidency. More than 70 people have been killed, which is the worse in years. Shopping malls, stores, and banks in Gauteng and KwaZulu-Natal provinces where the riots occurred have been looted. The South African military has dispatched 2,500 soldiers to support the police, but the situation is still out of control.
On July 14, local time, the Chinese Embassy in South Africa issued an emergency safety alert for the second time in two days, reminding local Chinese citizens to pay attention to their personal safety and take further precautions.
A RFA report cited a local Chinese that the city of Durban has been under martial law. However, the violence and looting are still happening. And the military and police have only limited intervention, the source said.
Meanwhile, a number of Chinese expats living in South Africa told Chinese media about the riots they had witnessed. They said that a lot of supermarkets, shops, and factories in Durban have been damaged. There have been long queues outside the few remaining food stores that are open. And bread and milk are in short supply.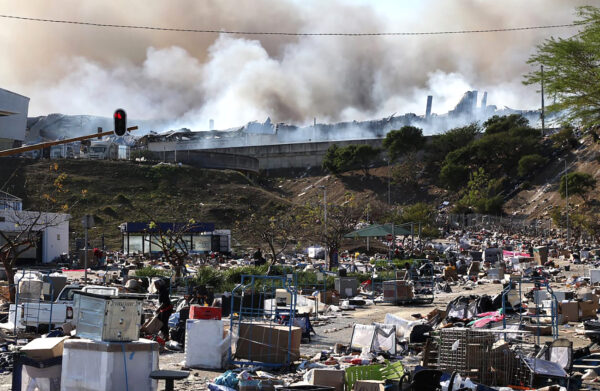 Sun Xianglu, who has worked in South Africa for many years, told Chinese media that Newcastle, in KwaZulu-Natal, was also affected by the riots. The city is home to at least a hundred Chinese textile factories.
Some netizens posted on Chinese social media that many Chinese supermarkets in South Africa were ransacked. They said that houses were burned down and commercial properties and factories were damaged.
China observers noted that for every riot in Asian and African countries, Chinese shops have often been targeted first, according to RFA. Chinese sociology scholar Lu Hao told RFA that the looting and burning of Chinese businesses in South Africa shows that the anti-Chinese sentiment is caused by the Chinese regime's actions.
"There are two main reasons for this. The first is that the Chinese government has violated human rights over a long period of time. This has given the world a very poor impression. The second reason is that the Chinese government's foreign aid and international investment projects often brought the Chinese domestic abuses and bad practices to other countries, including violations of labor rights, environmental damage, and bribery."
Lu said that China has invested a lot of money in the construction of large-scale projects in countries that participated in the regime's Belt and Road Initiative (BRI, also known as "One Belt, One Road") and has been accused of setting debt traps, which has caused disputes with locals.
As of January 2021, 40 countries from Sub-Saharan Africa have joined China's BRI. And according to The Africa Report, the African countries with the largest Chinese debt are Angola ($25 billion), Ethiopia ($13.5 billion), Zambia ($7.4 billion), the Republic of Congo ($7.3 billion), and Sudan (6.4 billion).
The Chinese regime's mishandling and concealment of the initial outbreak of COVID-19 is another cause of resentment against China and Chinese businesses, Lu said.
As of July 16, there were 2,253,240 COVID cases and 65,972 deaths in South Africa.
"Many countries have suffered very seriously during the pandemic because of the Chinese regime," Lu said.