John Mac Ghlionn
Commentary
In a recent article for The National Interest, the Singaporean Diplomat Kishore Mahbubani discusses the threat–or more specifically, the non-threat–posed by China. According to the author, the communist nation "is not a threat to American security." Mahbubani wonders why "an amazing number of Americans, even thoughtful, well-informed Americans, believe that China is on a mission to undermine American values."
Of course, they do, because that is China's mission. In January of this year, Bloomberg reported that a group of WeChat users in California were suing "Tencent Holdings Ltd., the Chinese owner of the messaging and payment app, for allegedly violating their right to privacy by surveilling and censoring their communications." Meanwhile, according to a recent CNBC report, there are legitimate fears that "the Chinese government could use TikTok to spread propaganda or censorship" across America, "or to exercise influence over users who may come to regret what they posted on the service." Furthermore, there are reports documenting the ways in which Chinese officials use mobile phone networks "as part of its espionage campaign against Americans." If these egregious examples of cyber espionage do not threaten American values, then, what does?
Interestingly, Mr. Mahbubani has a history of writing glowing reviews of China. Last year, he published "Has China Won?," a deferential tome that goes to great lengths to cast China in a positive light. Billed as a "clear-eyed assessment" of the adversarial nation, Mahbubani's offering is anything but. Heaping criticism after criticism on the United States, the author somehow manages to gloss over China's violations of human rights. Mahbubani, somewhat laughably, believes that "the primary goal of China's rulers is to preserve peace and harmony among 1.4 billion people in China." The CCP has no interest in "the lives of the 6 billion people who live outside China." One wonders, then, what is the purpose of the Belt and Road Initiative, with its 139 affiliated countries, that stretches from East Asia to East Africa? Why has China straddled dozens of countries with inordinate levels of debt? Mahbubani's denial of reality is as striking as it is stupefying.
The researcher Phar Kim Bang is also mystified by Mahbubani's reverence toward China. The Singaporean, he writes, "continues to position himself as a peripatetic philosopher-king cum master diplomat who seems to want Singapore, if not the rest of the world, to pine for China alone." Kim Bang makes a valid point. In April of this year, Mahbubani wrote an op-ed for the Financial Times, encouraging President Biden to "reverse course" on China. Trump's attempt to play hardball with Xi Jinping, according to Mahbubani, was wrong. Appeasement, argues the author, is the best approach. Why is Mahbubani, clearly an intelligent man, so defensive of China? Why is he so quick to praise Xi Jinping?
Could his obsequiousness have anything to do with Sino-Singapore relations? Remember, Mahbubani is a diplomat, and a diplomat's job, first and foremost, is to act as a conduit of communication between countries. And, right now, Singapore is busy communicating with China.
With a long and storied history, the two countries appear to share an unbreakable bond. According to Singapore's Ministry of Foreign Affairs website: "Singapore enjoys longstanding and substantive relations with the People's Republic of China (PRC), anchored by frequent high-level exchanges, multifaceted cooperation, growing people-to-people exchanges, and robust economic ties." For almost a decade, "China has been Singapore's largest trading partner, and Singapore has been China's largest foreign investor." Last year marked the 30th anniversary of diplomatic relations between the two countries. In many ways, it's a marriage made in despotic heaven.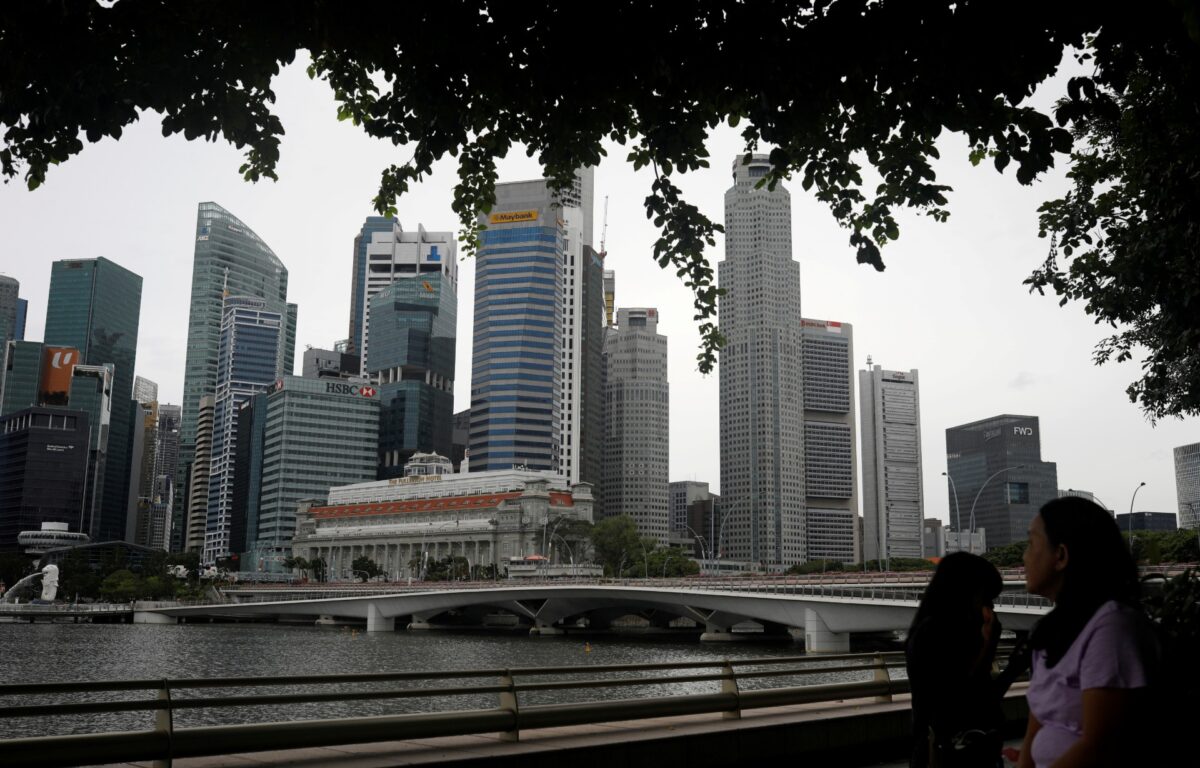 Singapore's Sinister Side
When one thinks of Singapore, one pictures a prosperous, aesthetically pleasing place. Although it is both prosperous and architecturally rich, the sovereign island city-state also has a dark underbelly. The strengthening of ties between the Chinese Communist Party (CCP) and the People's Action Party (PAP) should come as little surprise. The latter, like the former, closely monitors its citizens. The PAP, like the CCP, rules with an iron fist. As Phil Robertson, deputy Asia director at Human Rights Watch, warns, "the Singapore government's knee-jerk reaction is to harass or prosecute anyone for expressing disagreeable opinions rather than engaging with its critics." Robertson continues, "behind Singapore's gleaming façade of modernity is a government wholly intolerant of peaceful protest."
Although Singapore is marketed as a luxurious tax haven, it's important to remember that it's a tax haven with the death penalty. In Singapore, caning is still a common occurrence. Human rights workers are regularly harassed and arbitrarily detained. The people have no privacy, and this is by design. The Singapore Constitution does not include a right to privacy, thus allowing the government to surveil its citizens with absolute impunity. Like China, digital totalitarianism reigns supreme, with serious misuses of citizens' private information a regular occurrence. In a land of around five million people, there are more than 90,000 surveillance cameras, with many more to come.
Which brings us back to Mahbubai's rather jaundiced comments. In many ways, his respect for China is understandable. After all, the ideologies of Singapore and China are clearly aligned, and Mahbubani knows this better than most.