Texas Gov. Greg Abbott is demanding that the Biden administration return property that was seized by the federal government for construction of a border wall, as the governor announced a proposal for a state- and crowdsource-financed border barrier.
"I write now to demand that you immediately return to Texans any land taken by the federal government but not used for building a border wall," Abbott, a Republican, told to Biden in his letter dated June 16
The governor said that the Trump administration previously used "condemnation powers" to obtain property along the U.S.–Mexico border that was previously owned by Texans.
Abbott said that because the Biden administration has issued orders to rescind former President Donald Trump's orders mandating that the wall be built, he's demanding that the federal government return any land that was acquired from Texans and isn't being used to construct a wall.
"Texas stands ready to build the wall in Texas, and we have begun the process of hiring a manager to oversee that project. We will look first at using state property and donated private property," the governor said, referring to recent announcements that he would create a plan to construct the barrier along the border.
Abbott said at a news conference on June 16 that he has $250 million to start the wall-building process and has begun soliciting donations from individuals for the project. Trump, meanwhile, announced he would visit the border area alongside Abbott on June 30.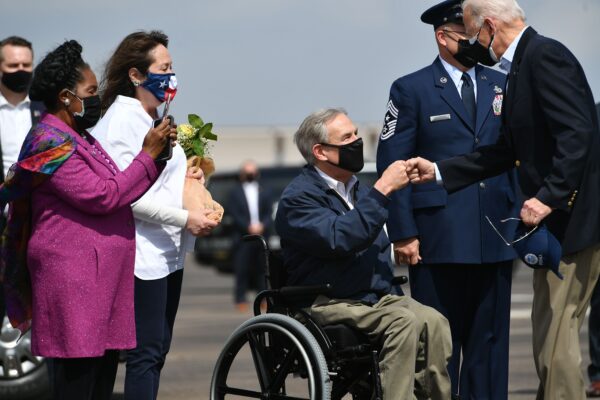 With that underway, the governor told Biden that officials "will also visit with Texans whose land was taken by the federal government" to see whether they will allow the state to use their land for wall construction.
In his letter, Abbott cited the substantial increase in illegal immigrants crossing the southern border in recent months and added that it has created a humanitarian crisis in some towns and facilities along the border.
Data released by Customs and Border Protection (CBP) suggest that May was the busiest month along the border since Biden took office in January. Authorities reported that some 180,000 encounters were made, and a number of people crossing illegally are coming from countries outside of Central America and Mexico.
The White House announced last week that it officially authorized the return to the Pentagon of more than $2.2 billion in military funds that were diverted during the Trump administration, while Biden administration officials have characterized the Trump-backed wall as wasteful spending and ineffective.
The border wall was one of Trump's signature campaign promises in 2016. During his administration, more than 450 miles of the barrier were constructed or replaced, according to CBP.
The Department of Homeland Security didn't immediately respond to a request for comment.