Rep. Beth Van Duyne (R-Texas) said Tuesday that the Biden administration was warned by Border Patrol officials about a large surge of illegal immigrants if Trump-era immigration policies were dismantled.
"We're seeing a tremendous humanity crisis down here. You've got people who are in a facility right now, the majority of them who are unaccompanied minors, in a facility that was built to house no more than 250 people. It currently has 5,700 people in it," she told Fox News on Tuesday.
The Biden administration has faced pressure in recent months in the midst of a significant surge of people crossing the border illegally, prompting warnings from members of Congress and officials along the border. A number of Republican senators went to the border area over the past weekend and toured a Donna, Texas, facility, accusing the administration of triggering the crisis by rescinding former President Donald Trump's policies.
Van Duyne said that there are Customs and Border Protection officials "who are at the end of their rope" in dealing with the surge.
"They're doing what they can but they're also very frustrated, realizing that they had actually warned this administration what would happen if they decided to push back on policies that were put in place by the previous administration that were working," she told Fox News.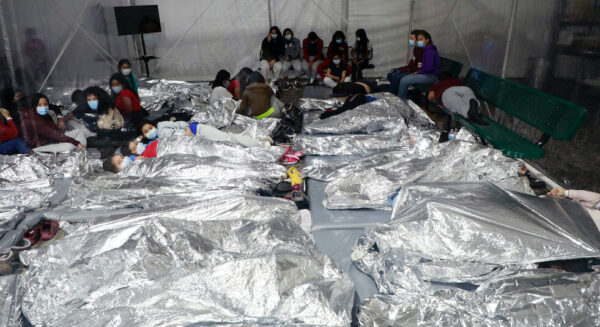 She added that Border Patrol officials under Trump "were keeping children with their families. They were keeping people over the border. They were keeping them in the first safe country that they came to and what we're seeing is a massive surge now at the borders and the response from the administration, instead of actually reversing policies that have caused this surge.
The Biden administration said that it was Trump's migration policies that triggered the surge, while President Joe Biden during a news conference last week suggested that the number of people crossing the border is routine and occurs every year.
Some NGO groups who spoke to the Wall Street Journal also suggested that the messaging from the administration is encouraging women and children to try and illegally migrate to the United States.
"It's great that the U.S. is welcoming women and children," Pastor Abraham Barberi told the paper at a shelter in Matamoros, Mexico. "But they're also sending the message to families: 'Let's leave everything behind because our children will make it across the border.'"
"We're basically encouraging moms and babies to cross the river, which is not right. And they're willing to do it," Andrea Morris Rudnik of Team Brownsville.
The Department of Homeland Security was contacted for comment.