BY LI HAI AND JOSHUA PHILIPP March 3, 2021 Updated: March 3, 2021
The United States, Japan, Australia, and India need to comprehensively push back against the Chinese Communist Party (CCP) in the Indo-Pacific region, a leading think tank says.
Cleo Paskal of the Foundation for Defense of Democracies told The Epoch Times at the Conservative Political Action Conference that the CCP's goal is to be "number one in the world with comprehensive national power."
She said members of the Quad alliance need "a comprehensive, multi-national defense where countries bring to the table what they have—which is unique—to push back against the CCP."
The Quad, or the Quadrilateral Security Dialogue, was started in 2007 by then-Japanese Prime Minister Shinzo Abe. Its four members are the United States, Japan, Australia, and India.
The Trump administration reenergized the Quad to become a military and diplomatic force in the region. The four countries have met annually since 2019.
In November 2020, Australia rejoined the annual navy exercise Malabar, which began in 1992 and currently has the United States, Japan, and India as three permanent members.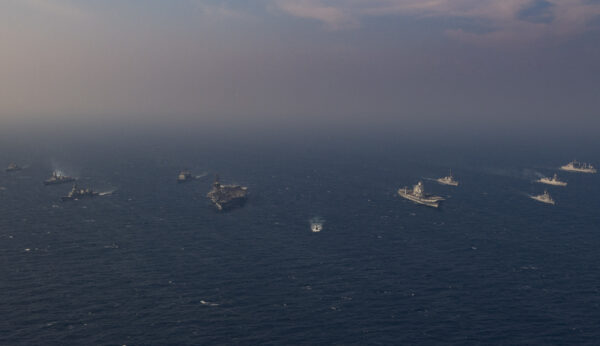 Former Secretary of State Mike Pompeo previously said the Quad is not only for "a rivalry between the United States and China … this is for the soul of the world."
"This is about whether this will be a world that operates in this sense that we're—on a rules-based international order system, or one that's dominated by a coercive totalitarian regime like the one in China," Pompeo told Japan's NHK when he visited Japan in October 2020 for the Quad ministerial meeting.
Paskal suggested that China has presented challenges to the Quad members and their neighbors.
"In June 2020, China attacked India and killed 20 of its soldiers. And that was a complete game-changer for India," Paskal said. "One of the first things they did, very interestingly, was [to] ban a bunch of Chinese apps, including WeChat and Tik Tok, because the Chinese were using the metadata to weaponize their AI. So India has been pushing back in many, many different ways ever since June 2020."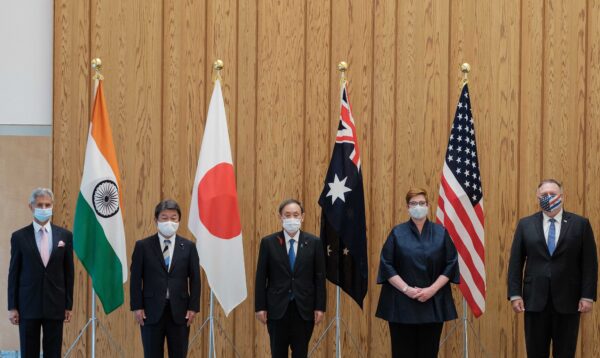 Australia was punished hard by the CCP because they were the first to ask for a COVID-19 investigation, Paskal pointed out.
"[China] put in place a lot of tariffs on everything, from coal to beef, to lobster, to wine," Paskal said. "But they haven't backed down. So it's been a very interesting, new Australia that we're seeing that's giving backbone to several other countries in the region as well."
Japan has taken two interesting paths toward the CCP's threat, Paskal said.
One is to give countries in the region economic alternatives, especially around things like energy, "which justifies a free and open Indo-Pacific seaway."
Japan has also been "trying to establish better relationships with the small Pacific Island countries to try to keep China out and less able to establish a military presence."
Paskal said that the push-back against the CCP must be comprehensive.
"You can't just fight back with guns and ships, although they're very important. You also need to block Tik Tok, block WeChat, block money going into their stock market, block their market access to you."