Photos were released on Tuesday of Democrat Socialist leader Rep. Alexandria Ocasio-Cortez sobbing at a border entrance gate back in 2019. We now know that she was wearing nearly $1,000 worth of clothes and accessories to put on the hoax!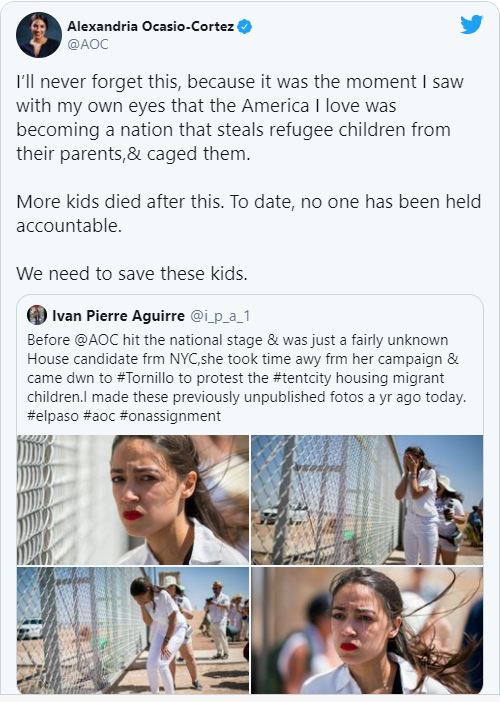 The horror of the experience moved her to tears. It was suggested that AOC was sobbing presumably at the sight of migrant children being inhumanely detained.
These photos were debunked after additional pictures showed Ocasio-Cortez crying in an empty lot.
It was ALL STAGED!
NOW THERE IS VIDEO…
This was the media being complicit with radical Democrats to create a hoax!
But that's not the end of her story telling.
BREAKING: AOC Was Not In the Capitol Dome Building – Embellished Her "Near Death Experience" Where Protesters Stormed Her Office
Socialist Democrat Alexandria Cortez came out as a sexual abuse survivor in an emotional Instagram video on Monday night. Then she berated Republicans and shared her horrific experience in the US Capitol as a mob of Trump supporters stormed her hall and threatened her. She says she was forced to hide in the bathroom in the "near-death experience" and that the terrorists were screaming, "Where is she!?"
Ocasio-Cortez compared Republicans challenging fraud in the 2020 election — something Democrats do regularly when they lose — to sexual abusers.
Rep. Ocasio-Cortez: "Or my favorite this past week, Ted Cruz and now Representatives Chip Roy, and oh, by the way, some of the other representatives who actually encourage people to threaten members of Congress or tweeted out the location of the Speaker, are now telling me to apologize for saying and speaking truth to what happened," she claimed. "These are the tactics of abusers. Or rather, these are the tactics that abusers use. And so when I see this happen, how I feel and how I felt was not again, I'm not going to let this happen again, I'm not going to let it happen to me again, I'm not going to let it happen to the other people who've been victimized by this situation again, and I'm not letting gonna let this happen to our country, ever. I'm not going to let it happen."